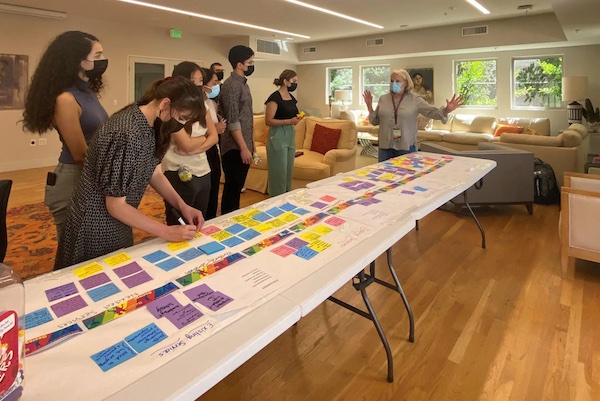 Students shared expertise from multiple disciplines, gained research and professional experiences.
Over the summer, the UCLA Pritzker Center for the Strengthening of Children and Families launched its inaugural cohort of Summer Fellows, made up of UCLA students from a variety of disciplines across campus. Supported by a gift from the Pritzker Foster Care Initiative, four graduate students and four undergrads provided their research skills to community-based organizations, including the Alliance for Children's Rights and A New Way of Life Reentry Project, and support the UCLA Pritzker Center's research efforts for the L.A. County child welfare system.
"A New Way of Life is excited to partner with UCLA Pritzker Center to support our advocacy toward allowing families impacted by substance use to safely stay together and have adequate time to heal–advocacy that is critical to protecting the right to family integrity for the justice-involved parents we serve," says Andrea Mazingo, attorney and Orrick Racial, Social & Economic Justice Fellow at A New Way of Life. "Partnerships like this provide essential support for community organizations working to reduce racial disproportionality in child welfare and protect families from the trauma of unnecessary family separation."
The Summer Fellows joined the existing UCLA Pritzker Center student research team, which included undergraduate and graduate level students, who continue to work on UCLA research projects benefitting Los Angeles County's child welfare and related systems.
Taylor Dudley, executive director of the UCLA Pritzker Center, says that this was the first time that the center has placed students with community-based groups.
"The UCLA Pritzker Center is a multidisciplinary effort," Dudley notes. "Given the research needs of our community,  we looked for students with background in those areas—thankfully UCLA students have much to offer in so many areas relevant to foster care and child welfare."
"We were fortunate to locate two law students, a medical student, and a MSW student. One of the law students has a background in public health, so that was an added bonus.  With the undergrads, we always look for students with a strong commitment to social justice with related experience they can build on."
The Pritzker Summer Fellows included Ansley Bolick and Gabriella Cohen-Herrera,  law students at UCLA School of Law; Jay Martinez, an MSW student at UCLA Luskin School of Public Affairs; and Taylor Thaxton, a medical student at Geffen School of Medicine. UCLA undergrads included Caroline Lese, Joseph Salahi-Chung Mary Sweetnam, and Sarah Finch.
These students joined the Pritzker Center's existing team of students, including undergraduates Aarushi Solanki, America Ramirez, Brittney Hun, and Mia Meza, PhD students Demontea Thompson, Keara Williams, Laura Liévano-Karim, Sam Blanchard, and Javier Garcia-Perez, and Nancy Olivares, a MPP student from UCLA Luskin School of Public Affairs.
"The support of our volunteers energizes the Alliance for Children's Rights mission and work to advance justice and advocate for children, young adults, and families impacted by foster care," says Cathy Yacoub, director of pro bono at the Alliance for Children's Rights. "We greatly value our partnership with the UCLA Pritzker Center to expand our pipeline of exceptional student fellows. Together with our volunteers and partners, the Alliance for Children's Rights stands with and for the most vulnerable young people among us."
"Our students demonstrate the best of UCLA—they are diverse, thoughtful, kind, dedicated and brilliant," says Tyrone Howard, Pritzker Center director and UCLA professor of education. They bring to life our mission to work across campus and in the community, and we hope their experience translates to success in the field long after their time at UCLA."