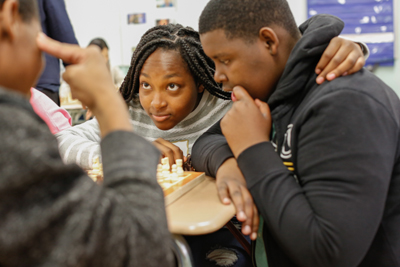 The UCLA Pritzker Center for Strengthening Children and Families is a new UCLA campus-wide initiative focused on the needs of children and youth who are disconnected from traditional pathways to success, with a particular focus on foster youth.
Launched in January 2018, the UCLA Pritzker Center is an interdisciplinary venture that brings together a wide variety of UCLA resources and expertise – the UCLA Department of Education, the UCLA Semel Institute for Neuroscience and Human Behavior, the UCLA Department of Social Welfare, and other units across campus – to address the complex needs of foster youth and to create better prevention systems for families who are at risk of losing their children to the foster care system.
The UCLA Pritzker Center is envisioned as an ongoing hub for this work within Los Angeles, with a focus on both prevention and intervention. The Center will develop new ways to elevate the life trajectories of children and young people who are part of the foster care system. Leaders at the UCLA Pritzker Center will proactively and strategically link UCLA's work to nonprofit agencies, K-12 systems, other education institutions, and government support services as we develop collaborative and innovative classroom support systems, family support services, and trauma and resiliency informed care.
The UCLA Pritzker Center was made possible by a generous gift from the Anthony and Jeanne Pritzker Family Foundation. Tony and Jeanne Pritzker are Los Angeles philanthropists and leading supporters of UCLA who have made significant investments toward bettering the lives of foster youth and their families. The Pritzker gift also establishes The Pritzker Family Endowed Chair in Education for Strengthening Children & Families in the UCLA Graduate School of Education & Information Studies, to provide faculty leadership for the center.
WORKING ON BEHALF OF FOSTER YOUTH AND FAMILIES
For foster children, life is often a solitary struggle. Sadly, many children spend years in "the system," moving from foster home to group home to foster home, and from one school district to another. Their childhood can be one of persistent stress and uncertainty, leaving the child at risk for significant emotional and psychological trauma. These children may never feel their lives are stable or connected and lack the family and community ties that are critical to children learning to make their own way in the world.
Foster parents and guardians face a similar struggle: providing a nurturing environment for a child with a history of trauma and loss that meets their individual social and emotional needs. It is imperative that the caregiving approach be informed by the child's past and an understanding of what they have been through. The needs of foster youth are no different than children who live with their biological parents, yet the lack of stability ensures these needs are rarely met in a systematic, compassionate way. Though well intentioned, few foster parents are equipped for the challenges they will face.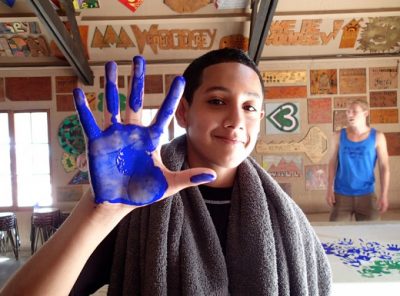 Schools are the place where foster youth spend the majority of their day, but these schools are often not working optimally in collaboration with providers or parents. Educators and providers must integrate many disparate resources into a coherent path for each child. With so much at stake, few professionals have the ability to evaluate and deliver what children need. Competent providers require a continuum of trauma-informed, child welfare-competent, trans-disciplinary professional development.
There are nearly 35,000 young people engaged in the child welfare services system in Los Angeles County, including more than 21,000 in foster care. Youth who are exposed to abuse, neglect, and instability in their home life have a greater risk for physical and mental health problems, academic failure, and incarceration. Nationally, 30 percent of foster youth perform below grade level and 50 percent are held back in school. A California study in Contra Costa County found that one-third of children placed in foster care eventually end up homeless and 35 percent are arrested while in foster care.
The UCLA Pritzker Center for Strengthening Children and Families will also become a site for the examination of racial dynamics in foster care, given the fact that a disproportionate number of youth in foster care are African American. In Los Angeles County, eight out of 100 children are African American– but 28 out of 100 foster children are African American according to Department of Children and Family Services data.
UCLA already has teams from UCLA Education, the Semel Institute's UCLA TIES for Families Program, the Nathanson Family Resilience Center, the Department of Social Welfare, UCLA Student Affairs, and elsewhere across campus, who are working to improve outcomes for foster youth. The new UCLA Pritzker Center will make it possible to leverage these resources and for these experts to work together strategically to maximize the UCLA impact and ways in which we can collaborate with external agencies and experts.