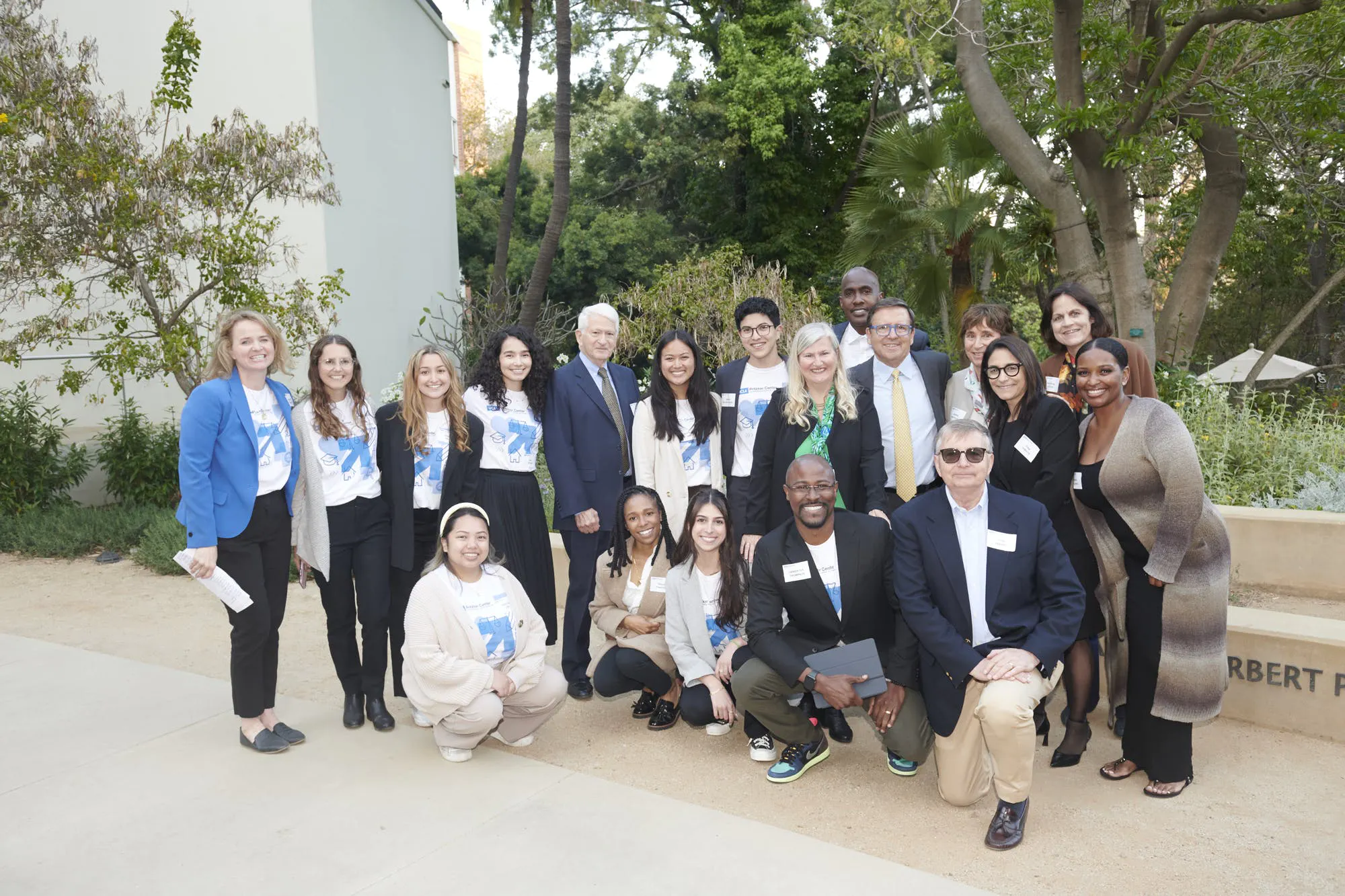 Credit: Don Liebig/ASUCLA
Chancellor Gene Block and UCLA community celebrated the Center's growth amid the natural surroundings of UCLA's Mildred E. Mathias Botanical Garden.
Established in 2018, the UCLA Pritzker Center for Strengthening Children and Families was created with a gift from the Anthony and Jeanne Pritzker Family Foundation to challenge and resolve the systemic issues that have made Los Angeles County's child welfare system the largest in the nation. With access to the vast academic and interdisciplinary resources at UCLA and leadership by Tyrone Howard, UCLA professor of education and the Pritzker Family Endowed Chair in Education for Strengthening Children & Families, and Audra Langley, Ph.D., clinical psychologist and professor at the UCLA Semel Institute for Neuroscience and Human Behavior, the center started out with a blank slate in a world yet changed by the forthcoming pandemic.
The UCLA Pritzker Center began to gain momentum creating relationships and collaborating with a wide variety of disciplines across the UCLA campus, including law, medicine, education, public health, and even the dance department. Eventually moving to an office suite all its own, the center formed partnerships with local, state, and national practitioners and agencies, steadily creating prevention strategies to reduce the need for foster care while supporting equitable reform to the child welfare system.
Enter the COVID-19 pandemic and civil unrest set off by the murder of George Floyd and increased protests against police brutality, circumstances that highlighted the inequities that already surrounded the child welfare system and the treatment of foster youth and families. The UCLA Pritzker Center rose to these unprecedented challenges, adding pandemic relief efforts such as distribution of food and school supplies to those in need, while continuing to build bridges between agencies including child and family services, and programs that address mental health, drug abuse, and domestic violence. At a recent celebration of the center's fifth anniversary, UCLA Chancellor Gene Block underscored the academic and social value of the UCLA Pritzker Center in the wake of these unprecedented challenges.
"We recognized the need for it five years ago," said Block to an audience assembled in the Mildred E. Mathias Botanical Garden at UCLA to celebrate the center's anniversary in May. Among those attending were the Pritzker Center's supporters, students, and staff, including Anthony Pritzker, president of the Anthony and Jeanne Pritzker Family Foundation, and UCLA School of Education and Information Studies Wasserman Dean Christina Christie. "The Center's work is more important now … and there was urgency when it was initiated. We at UCLA are deeply thankful for the excellent work that has been done.
"This requires a village," continued Chancellor Block. "Universities can provide scholarship, know-how in some areas, but the work gets done in a lot of other places and the Center works effectively across all these different places. They've become a leader in educating those who work directly with foster youth. I am eager to celebrate the 10th anniversary of the Center, because I know much more will be accomplished – it's on a great trajectory."
To date, approximately 10,000 social workers, attorneys, therapists, caregivers, educators and students have been trained in the center's interdisciplinary approach, which provides an anti-racist lens that is informed around racism and disproportionality.
"We've done a lot of things around UCLA but I would say this is our single most important investment that we've made," said Anthony Pritzker. "The goal of creating a center was bringing together all of the resources from across the university. It's not just a foster youth center – that's why we came up with the name – it's about children and families together. How many lives you all affect, and the number of things you do to make life better for people [is] truly amazing."
The impact of the UCLA Pritzker Center on undergrad and graduate students who aspire to a variety of careers in law, public health, medicine, and numerous other fields has been immense. Over the last five years, the center has provided employment and fellowships for 40-plus students from a range of disciplines and life experiences.
"They are the hearts and minds that enable this work," noted Taylor Dudley, J.D., the center's executive director. "Most importantly, they are themselves, bringing their unique backgrounds, identities, and cultural values to our work, qualities we embrace and hope to elevate through our teaching and our research."
Doctoral students from the UCLA School of Education and Information Studies and the Luskin School of Public Affairs have presented at national conferences on their statewide study on school issues for children in foster care and are currently supporting a collaborative study on media and its influence on impressions of foster care. UCLA Law students have published a nationally recognized report on domestic violence and partnered with a women's reentry program to address substance use issues. Medical students in the David Geffen School of Medicine have co-published an article on domestic violence with Ph.D., law and undergraduate students in the International Journal of Child Maltreatment, have spoken at statewide UC health conference about their work, and facilitated providing the COVID-19 vaccine for a kids talk with UCLA physicians.
MSW students at the Luskin School led the implementation of a novel strategy to reduce racial disproportionality in the L.A. County child welfare system and an MPP student organized a campus wide talk in response to racist remarks targeting a former foster child that were made by Los Angeles city councilmembers.
Through their work at the UCLA Pritzker Center, undergraduates from a wide range of disciplines including dance, human biology and society, nursing, sociology, Chicana/o American studies, Spanish, communications, and political science are supporting research studies through focus group facilitation, transcription, and coding; food and diaper distribution for families in the Antelope Valley child welfare system, and free Spanish translation for numerous trainings. In addition, the Pritzker Center's course on child welfare policy in America is taught to undergraduates at the Luskin School, and the center's Summer Fellowship Program, which is supported by a gift from the Pritzker Foster Care Initiative, gives UCLA students a chance to hone their research skills and gain professional experiences with Los Angeles practitioners and agencies.
Students who have worked with the UCLA Pritzker Center are now entering law school, medical school, and Ph.D. programs in a variety of disciplines; working in legal aid and national law firms, entering MPH programs, making foster care documentaries, and working for Planned Parenthood and the Los Angeles County Department of Children and Family Services.
Taylor Thaxton, a student in the Drew UCLA Medical Education program, and Brittney Hun, a recent UCLA graduate with a degree in human biology and society, are working on the Avenue Project, otherwise known as the Antelope Valley Engagement United for Equity, adding their medical and scientific perspectives to a report on domestic violence and foster care placement. Through the project and under the supervisor of Dr. Lisa Gantz, the students have built a cohesive network around reducing health disparities, preventing child abuse and neglect, and ensuring patient autonomy, and interacted with the community through food distributions, health fairs, community events, and social media, with the goal of advancing health care justice and building connections.
"Working with Taylor and her team has given me much to look forward to as I begin my own journey towards medical school," said Hun. "These experiences have fortified my passion for working with and highlighting the needs of vulnerable children. I will undoubtedly carry these experiences with me as I begin my career as a pediatrician."
Demontea Thompson is a doctoral student in the division of Urban Schooling at UCLA's Department of Education. Having been in foster care himself, he supports the Bruin Tutor Network, which provides free tutoring by UCLA students to hundreds of foster youth across Los Angeles County. In addition, Thompson is leading two collaborative research projects by the UCLA Pritzker Center and the UCLA Center for the Transformation of Schools.
"I know firsthand that youth in foster care encounters barriers at every experience along the way of their educational journeys," he said. "Historically, there has been scant research that highlights the community cultural wealth in the counternarratives of foster youth. The UCLA Pritzker Center is changing that. The work that we do here goes beyond interviews, citations, reports, webinars. Our work goes beyond into the corridors of communities that are often invisible in research and services.
"These studies have not only given me the opportunity to seek knowledge about … their challenges along their journeys, but it's also given me the experience to inspire and mentor the upcoming scholars … and to learn from them as well," said Thompson.
The UCLA Pritzker Center is also working to influence the public perception of foster children and families, both on local and national fronts. Earlier this year, the center welcomed Pulitzer Prize-winning author Andrea Elliott to UCLA to discuss her Pulitzer Prize-winning book, "Invisible Child: Poverty, Survival and Hope in an American City." Last fall, the center hosted a hybrid event, "Affirming Black Children in Foster Care: A Response to Racism in City Government," in response challenges of racism among Los Angeles city leadership.
UCLA alumnus D'Artagnan Scorza ('13, Ph.D., Urban Schooling; '01, B.A., Study of Religion) is the executive director of Racial Equity for Los Angeles County and the founder of the Social Justice Learning Institute. At the anniversary celebration, Scorza discussed the partnership between the UCLA Pritzker Center and the L.A. County Anti-Racism, Diversity and Inclusion Initiative, which has produced a report on "Reimagining Health and Human Services."
"The north star of the work we've been doing here in LA County with the Pritzker Center has been focused on dismantling systemic and structural racism in our cities, to make sure that many of our children and our families of color have the opportunity to thrive in the context of their environment," Scorza said.
Brandon Nichols is the director of the L.A. County Department of Children and Family Services. He cited the partnership between the county and the UCLA Pritzker Center as, "…an opportunity to change policy, to change the way families are treated across the country."
"In [these] five years, we've taken advantage of the research that's done here," Nichols said.  "Beyond research, the center has supported our training… around transracial adoption, the impacts of domestic violence. We have a pilot [program] with a center in the Antelope Valley, where we've brought in domestic violence counselors and service providers. Real families, real parents, real kids are having different outcomes and experiences because of the partnership between us and the Center."
Dean Christie congratulated the assembled leadership, staff, and students of the center, and highlighted the central aim of its work.
"It started with a transformational idea for a transdisciplinary center that was going to be grounded in how we can better serve children and families," she said. "This was about children and families… a transformative gift with transformative leaders, so that we can transform systems and experiences for our foster youth.
"Our students and our faculty are our intellectual essence. It is an honor to serve as dean of the School of Education and Information Studies that serves as home to the Pritzker Center, but embraces scholarship, leadership, and the intellectual engine of UCLA across our campus."
Dudley expressed her gratitude for all the collaborations across UCLA and beyond campus, and underscored the pressing needs for the work of the UCLA Pritzker Center to continue.
"It means so much to me and to our team to have you woven into the fabric of our formation," said Dudley to the audience assembled in the Mildred E. Mathias Botanical Garden at UCLA. "Working with each of you is a privilege and it makes this work here at UCLA, all of ours.
"But this is not enough. Because while youth are dying in our juvenile halls, and families are being separated, and youth remain unhoused, traumatized and suffering, we must and we will do more. Going forward, we are committed in our next five years, to making the center even more engaged in the community."
Professor Howard, who currently serves as the president of the American Educational Research Association (AERA), also thanked well-wishers and gave a call to action around the future of the UCLA Pritzker Center and its alignment with the University's mission of service.
"We tout the fact that we're the number one public institution in the country, [but] shame on us if we can't do better by those families and those children who are still suffering. Shame on us if we can't use the best and brightest resources that we have at this institution to do everything possible to make their lives better.
"We can do better, we will do better," said Howard. "We are celebrating five years, but as I said earlier, there is so much more work to be done. And this work will be done when we begin to not punish children and families but take a more preventative approach to make sure we create systems that are loving, that are caring, and that are affirming."
Above: UCLA Chancellor Gene Block (standing, fifth from left) and students, faculty leadership, and community partners of the UCLA Pritzker Center for Strengthening Children and Families, gathered in the Mildred E. Mathias Botanical Garden on campus to celebrate the center's fifth anniversary.
Pritzker Center leadership includes Taylor Dudley, JD, executive director (at far left, back row); Professor Tyrone Howard, director (first from right, back row); Wasserman Dean Christina Christie (second from right, second row); and Professor Todd Franke, (first from right, front row). Also pictured are graduate student researchers Keara Williams (first from right, second row), and Demontea Thompson (second from right, front row).
In the third row, L-R: Audra Langley, Ph.D., co-director; Anthony Pritzker, Winnie Wechsler, executive director, Anthony & Jeanne Pritzker Family Foundation; and Patricia Lester, M.D., who is the Jane and Marc Nathanson Professor of Psychiatry at the UCLA Semel Institute for Neuroscience and Human Behavior and the David Geffen School of Medicine.
Photo by Don Liebig, UCLA