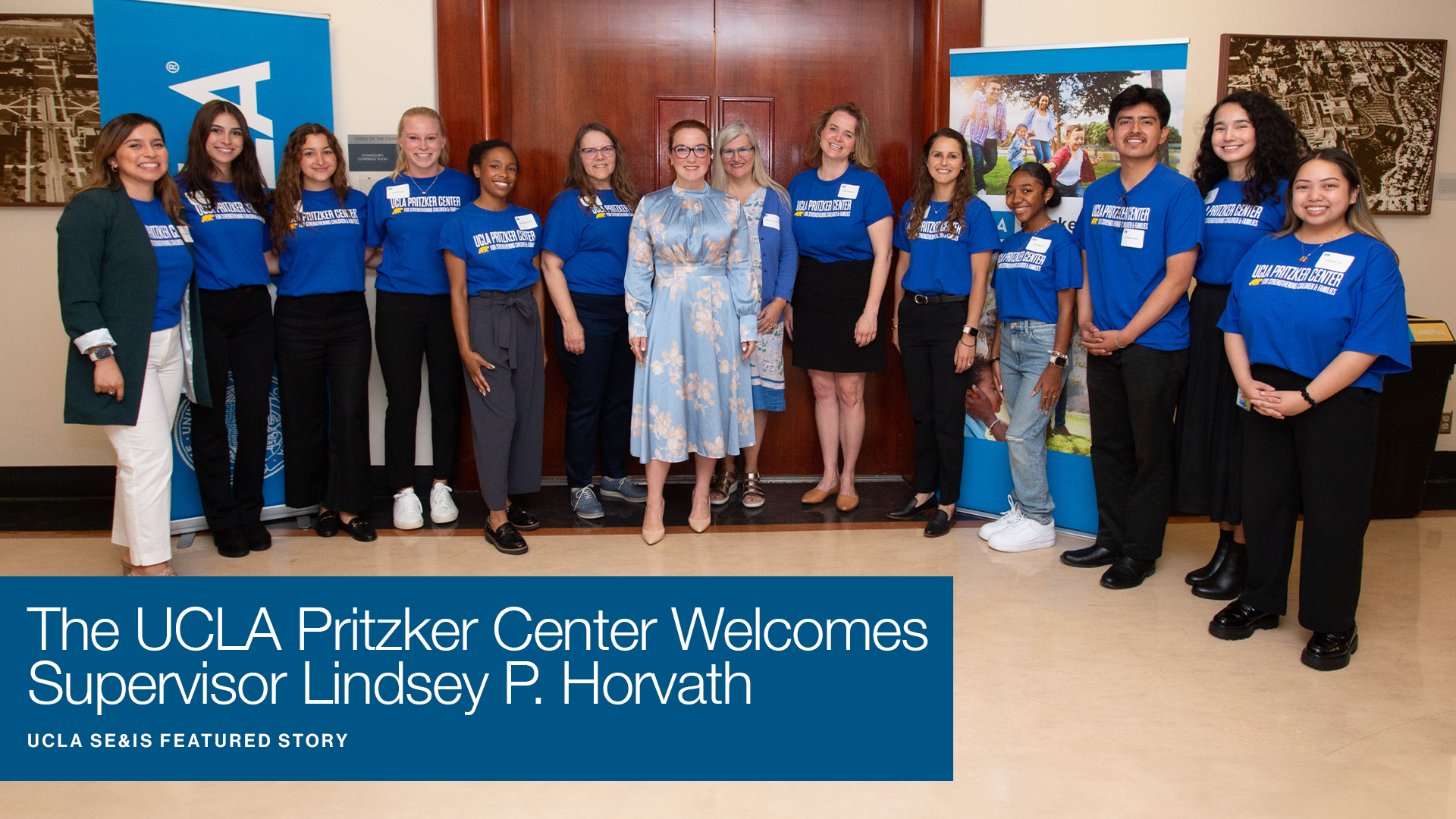 Credit: Office of Supervisor Lindsey P. Horvath
Campus briefing on Oct. 6 for Horvath, the youngest woman to lead the County Board of Supervisors, showcased UCLA expertise and partnerships in support of children and families.
The UCLA Pritzker Center for Strengthening Children and Families welcomed Los Angeles County Third District Supervisor Lindsey P. Horvath to the UCLA campus. The meet-and-greet in Murphy Hall was held to acquaint Supervisor Horvath with UCLA's numerous experts in child and family related needs, to hear more about her goals as Supervisor, and to learn of ways the campus community can be supportive toward her policy agenda.
In partnership with numerous campus experts serving children and families, a roundtable discussion with campus experts from intersecting disciplines, touched upon topics such as child welfare, foster care, juvenile justice, child health, and education. Supervisor Horvath also awarded the UCLA Pritzker Center with a certificate of commendation on behalf of the LA County Board of Supervisors, in recognition of the center's work supporting children, youth, and families throughout Los Angeles County.
Taylor Dudley, JD, executive director of the UCLA Pritzker Center, opened the discussion with Supervisor Horvath. A land acknowledgement was given by second-year UCLA undergrads and Pritzker Center research assistants Olivia Gilchrist, a public affairs and psychology major, and Cristopher Espino, who majors in political science as well as the Education & Social Transformation major program at the UCLA School of Education and Information Studies.
"Hosting Supervisor Horvath was an honor for our team and partners at UCLA–a true demonstration of the bridges we aim to build on campus and from the doors of UCLA into neighorhoods across LA," said Dudley. "With the Supervisor's engagement, we can provide more meaningful research in our communities, share training and education with LA County colleagues and form genuine and impactful partnerships with organizations committed to helping families thrive. We look forward to supporting her vision for the Third District."
UCLA Professor of Education Tyrone Howard, co-director of the UCLA Pritzker Center, is a scholar whose research addresses the intersections of race, culture, access, and educational opportunity for minoritized student populations.
"We've been excited to do a number of research projects with the County that are really informative around how we think about issues tied to racial bias, domestic violence, issues that we know have an impact on children and families' abilities to thrive," said Howard, who also directs the Black Male Institute and CTS.
Audra Langley, PhD, is co-director of the UCLA Pritzker Center and a professor at the Semel Institute for Neuroscience and Human Behavior as well as in the Department of Pediatrics, UCLA David Geffen School of Medicine. She encouraged Supervisor Horvath to "… leverage the incredible resources and expertise, some of which you see here today, in order to bridge with communities and elevate the ways we help children and families. I'm excited for everyone who's here today representing some of the best of UCLA's investment in prevention and intervention for children and people with families."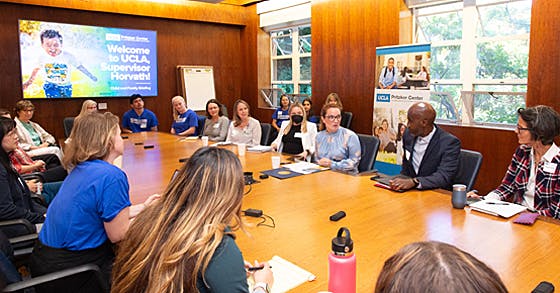 The UCLA Pritzker Center was represented by Nancy Olivares, MPP, who spoke about the center's Courageous Conversations and Blind Removal research projects, which aim to raise awareness and reduce racial bias and racial disparities in foster care; Isabella Reina, research assistant, who described the center's work in the Antelope Valley in partnership with Baby2Baby, and meeting seasonal needs such as distributions of backpacks for school and toys during the holiday season. Taylor Thaxton, MPH, a 4th year Drew/UCLA medical student, spoke about a new pilot program with the Los Angeles County Department of Children and Family Services (DCFS) in a domestic violence shelter called Valley Oasis, and how the center will continue to examine the intersection between domestic violence and entering foster care; and Kahlila Williams, a research assistant, spoke about her lived experience in foster care. In addition, the Anthony & Jeanne Pritzker Family Foundation was represented by Winnie Weschler, senior advisor and Lauren Nichols, director.
UCLA's medical expertise was represented by Wendelin Slusser, MD, Associate Vice Provost for the Semel Healthy Campus Initiative Center at UCLA and professor at the UCLA David Geffen School of Medicine and School of Public Health; Shannon Thyne, MD, professor and vice chair of pediatrics at the UCLA David Geffen School of Medicine; Claudia Wang, MD, associate clinical professor and pediatric consultant for UCLA Ties for Families; and Patricia Lester, MD, the UCLA Jane and Marc Nathanson Family Professor of Psychiatry, director of the Nathanson Family Resilience Center, medical director of the Child and Family Trauma Service, and part of the leadership team at the UCLA Pritzker Center. Catherine Mogil, PsyD, co-director of the UCLA Prevention Center of Excellence and Eugenia Tsao, PhD, director of clinical services at UCLA TIES for Families, rounded out the group of on-the-ground practitioners who shared their work with Supervisor Horvath.
Bianca D.M. Wilson, PhD, the Rabbi Zacky Senior Scholar of Public Policy at The Williams Institute in the UCLA School of Law; Elise Brumbach, JD, policy and practice coordinator, UCLA Center for the Developing Adolescent; Angela James, PhD, research director, CTS; and Jennifer Poulakidas, Associate Vice Chancellor for Government and Community Relations, also shared their expertise and work.
Also in attendance were Marco Perez, assistant director, UCLA Government Relations; Jess Aceves, administrative assistant, UCLA Government Relations; Brenda Tully, PhD, research fellow, UCLA Pritzker Center; Laura Liévano-Karim, PhD, postdoctoral research fellow, UCLA Pritzker Center; Ana Rivera, program coordinator, UCLA Pritzker Center; Sophia D'Souza, survey researcher, UCLA Pritzker Center; Laura Lindberg, executive director of development, UCLA Ed&IS; Nicole Payton, senior executive director of external relations, UCLA Luskin School of Public Affairs; Patrick Brennan, MBA, director of the UC/CSU Fellowship, UCLA Ed&IS; Teaira Nelson, MSW, program director, Bruin Guardian Scholars Program; and Catherine Imbery, project coordinator, UCLA Semel Healthy Campus Initiative.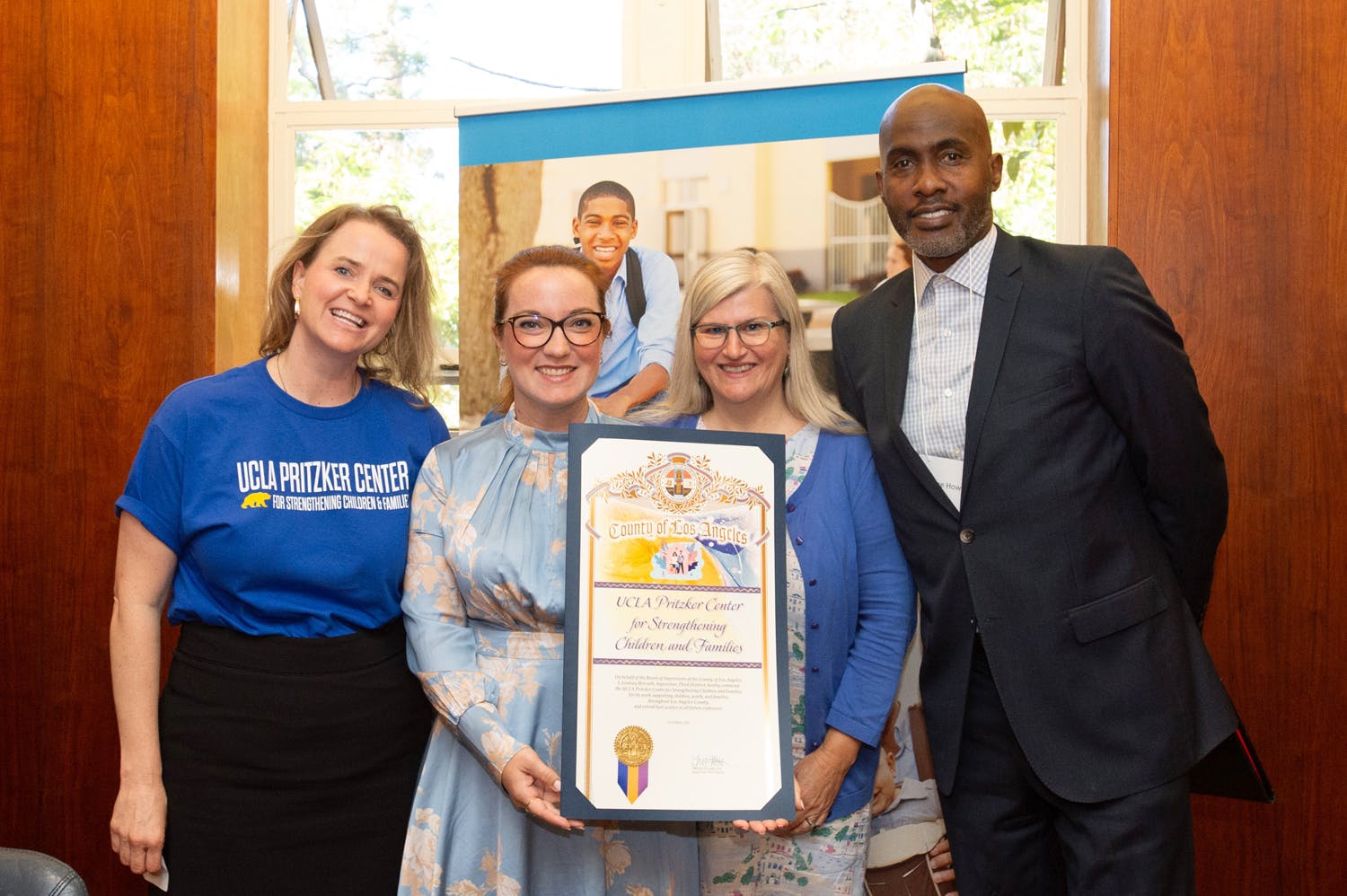 Supervisor Horvath, who took office in 2022, expressed her hopes for improving outcomes for children, youth, and families, and her goal of "…moving away from 'mandatory reporting' to 'mandated supporting.'"
"What I would really like to see is the County to be a social prevention network, that we don't just catch you when you fall, but prevent you from falling in the first place," she noted. "We are focusing on how we expand equity, expand resources, and help families who have been traditionally excluded on purpose from these systems to not only have the systems changed to welcome them in, but to help them have all of the understanding and support that they need to be loving parents and happy families they've always envisioned for themselves. We are pushing to include more LGBTQ families in the service work that we do in the County, and to hear from all of you… especially people who work with people having lived experience of these systems to understand where we need to be doing them better."
Horvath, who will assume the post of Board Chair in December, said that her new role will assist her in more timely action on the most pressing issues facing young people in foster care and the juvenile justice system.
"I am moving with our team with a sense of urgency on these issues, because we know every single day that our young people, whether they are justice involved, whether they are surviving foster care, whether they are struggling in a different home that's experiencing all kinds of trauma, every day makes a difference," said Horvath. "With your help, I know we will bring the change that is desperately needed. I'll have a new role to play and hopefully [will be] highlighting these issues in partnership with my colleagues to bring even more awareness and sense of urgency to creating that change."
Supervisor Horvath previously served as a City Councilmember and as the longest consecutively serving Mayor of West Hollywood. She has made history as the youngest woman to be elected to the Los Angeles County Board of Supervisors, and as the first millennial and only renter on the Board.
"I'm a different face for a supervisor that most people are used to," said Horvath, "and when you change the face of leadership, you can change the work that you do. You can change policy, you can change the way you serve people.
"I look around the room and see how much we're changing the face of the work that will be done and how much you all will inform that, so thank you," she said. "One of the things that's very important to me is as I have been given opportunities, I want to make those opportunities available to others. My leadership is only good if I kick open that door and bring a lot of people with me because I can't do it by myself. We need all of you in those rooms with us."
 Photos courtesy of the Office of Supervisor Lindsey P. Horvath